Tuesday morning, I got in my car which was parked on my quiet street in front of my apartment and when I closed the door, I heard a rattling sound. As I was driving to work, I kept trying to figure out where it came from. Then I felt a draft above my head. My driver's-side window was popped out at the top corner. So I put the window back down and up again and luckily it went back in to place and was operating normally. Not so luckily, I noticed when I made it to work that there was a small gauge in the panel next to my window made by whatever tool was used to pry it open. I don't leave anything in my car, so there was nothing to steal and everything was normal on the inside.
When I got to my office, I called the police just to make a report and they had someone there to look at it within 5 minutes.
I just happened to have my monthly neighborhood watch meeting that night and I told them about the incident. I was told that they were probably trying to steal my car because if they wanted something inside, they would have just broken the window. I drive a VW GTI. I didn't really think it was possible to steal it because of added safety features, but maybe the criminals don't know that. It was suggested that I get the club my my steering wheel because that usually prevents them from trying in the first place.
The rest of the week, I made an extra effort to park in my garage at home. I hardly ever use the garage because it's detached with a manual door and it's hard to get in to the small space from the alley behind my apartment.
They left my car alone for two days. Then I went out to dinner Friday night at a local bar, parking my car in their fenced-in lot adjacent to the building. In broad daylight, while I was inside this establishment for MAYBE an hour and half, some assholes did this: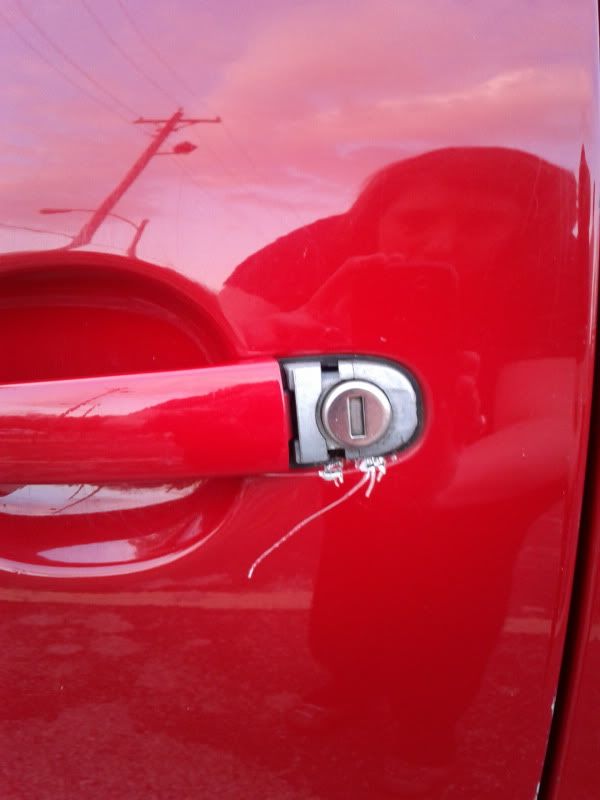 And I found my car door unlocked, but again, nothing was taken. I called the police and they sent two squad cars to me within 15 minutes to take the report. Their were some people who live above the bar hanging out their window facing the parking lot the whole time we were outside. Tom went up to ask them if they saw anything. They did notice two young black boys loitering around the lot who walked away about 15 minutes before we came out. They had the color of their shirts, and that they were wearting shorts, but not much else. The police woman who took the report said they would drive around and look for them, but it would be like finding a needle in a hay stack.
So lucky me with my $1,000 deductible, but I feel like I have to get this fixed.
Not a good week for J Kap.
In the past week, someone has tried to steal my car TWICE.